The record-breaking fleet of 118 yachts with more than 700 sailors is ready to race the A. Le Coq 59th Moonsund Regatta |
The oldest and biggest regatta in Estonia – the A. Le Coq 59th Moonsund Regatta – will set sail in Pärnu on July 10. All diehard sailors have planned their summer holidays around this event and now the big moment has arrived. The regatta will sail through Kihnu, Haapsalu and Kärdla harbours and cross the finish line in Kalev Yacht club in Pirita Tallinn where the regatta joins Tallinn Maritime Days on July 15 and 16. Kalev Yacht Club will also host the prize giving ceremony and after-regatta festivities. In Tallinn fans can go abroad Katharina and cheer short circle races. Pärnu, Kärdla and Tallinn races will be streamed live as courtesy of our media partner Postimees/Eesti Meedia.
The fleet boasts 102 yachts from Estonia, ten from Russia, four from Latvia, and one from Finland and Lithuania. The week-long event will establish winners in three classes and seven groups. In addition, CDL < 8 (ORC smaller yacht group) and Folkboot will race for the Estonian champion title. Also Folkboot has never seen so many contestants at Moonsund – 18 teams are racing this year.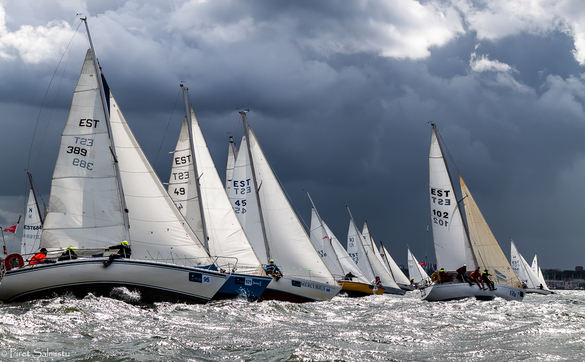 A. Le Coq 58th Moonsund regatta in Tallinn 2015 - photo Piret Salmistu
What when and where?
Over the weekend of July 9 – 10 a huge amount of yachts will gather at Pärnu Yacht Club. To make arriving in Pärnu more fun some smaller yachts will race from Tallinn to Pärnu - Autoekspert Iron Butt regatta begins on Thursday.
The 59th Moonsund Regatta will be opened on July 9 at 19:00 by Egon Elstein, president of the Estonian Yachting Union, and Rainer Aavik, deputy mayor of Pärnu. After the opening ceremony everyone will be invited to enjoy SAXFEST concerts featuring Villu Veski band and James Werts World Project.

The A. Le Coq 59th Moonsund Regatta will set off on Sunday and it will be available online at postimees.ee.
The first, 25 – 40 mile Helly Hansen/Sportland leg will take the contestants to the island of Kihnu. The last time the Moonsund Regatta visited Kihnu was in 2009 when only 70 yachts participated. Kihnu harbour has seen massive renovations in the meantime and in addition to a new quayside and jetties it also has a new and modern harbour building and is able to welcome a much larger fleet now.
From Kihnu the fleet will set off on a 60 – 80 mile Mount Gay Rum/Dermoshop race to Haapsalu. The regatta has not stopped there for the last three years and the entire town is eager to welcome it back.
The third, a 30 – 45 mile Loodusinvest leg, will be a race to Kärdla where the regatta will stay for two days. During these two days a shorter circle – Postimees Kärdla Näkimadala Regatta – will be raced locally. The longest, a 70-90 mile Musto leg will take the fleet from Kärdla to Tallinn Kalev Yacht Club.
The last days of the Moonsund Regatta coincide with Tallinn Maritime Days. Friday, July 15, will be a day off for teams who arrive late into the night but everyone is welcome to enjoy the impressive Sea Parade and the rest of the festivities of the Maritime Days.
The last leg of the regatta is the short Bosch Talllinn circle on Saturday. Those who want can go on board Katharina (leaves the Seaplane Harbour at 10:30) and Postimees live stream can be followed on the shore.

The prize-giving ceremony of the A. Le Coq 59th Moonsund Regatta will take place in the evening at Kalev Yacht Club. The entire program of the regatta can be found here: http://muhuvain.ee/regatta2016/uritused
The regatta can be followed online as all yachts have GPS-tracking. All fans and friends are more than welcome to join all harbour activities and entertainment which is free both for the sailors and the guests. The regatta news – live stream, tracking, harbour fun, interviews with sailors, results, photos and much more can be found here: Postimees online Sailing/Moonsund Regatta.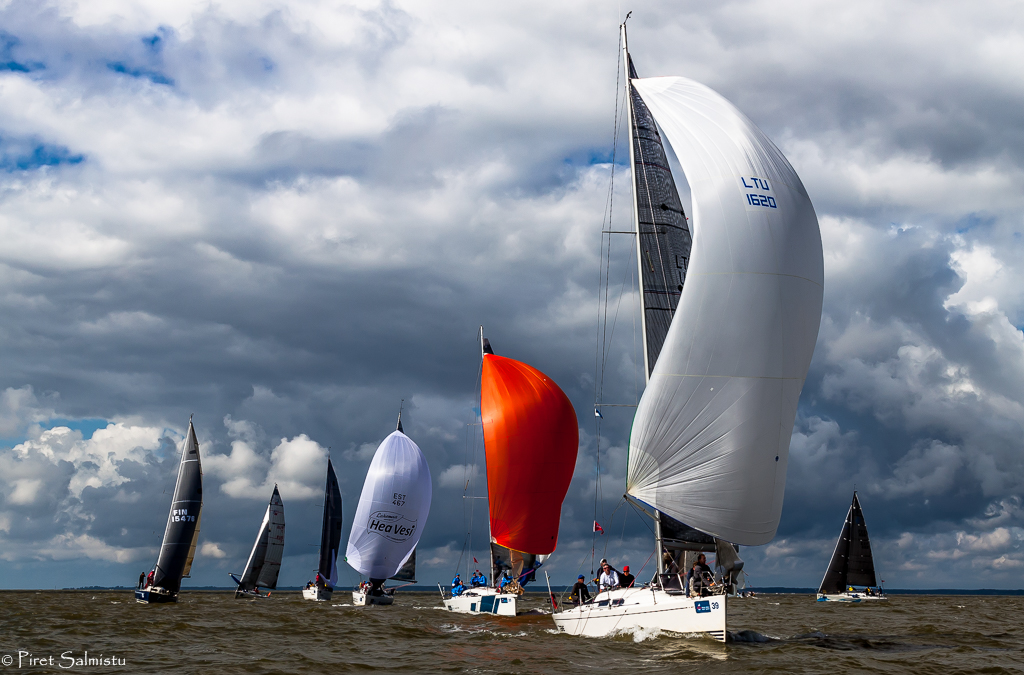 A. Le Coq 58th Moonsund regatta in Pärnu 2015 - photo Piret Salmistu

Title-holders, favourites and newcomers
The races will be held in three classes (ORC, ESTLYS and Folkboot) and seven groups. The ORC classes will be judged according to the Performance Line Offshore/Inshore method and the ESTLYS groups use corrected time method. The Folkboot winner is the one to arrive first.
The small ORC III group (CDL £ 8) yachts and Folkboots will also race to the Estonian champion title. The list of participants: muhuvain.ee/regatta2016/osavotjad
ORC group has a bit less yachts this year than usual. As the ORC Worlds will be held in Copenhagen a week after the Moonsund Regatta, some ten top teams are already en route there. This is the reason why we will miss last year's ORC I group winner Olympic from Dagö Yacht Club with Tiit Vihuli at the helm and Reval Cafè Elisa Sailing Team with Eero Pank's team from Kalev Yacht Club. But we are proud to have the last year's ORC European champion Jaak Jõgi on Forte from Kalev Yacht Club who is definitely the one to watch.
ORC II is also missing two last year's winners, Pärnu Yacht Club's yachts Sugar 2 and Katariina II are both away and racing for the ORC European Championship title. This will for sure allow for more surprises on the podium.
Group III, which is called CDL<8 this year (yachts under 8 meters), and which will race for the Estonian champion title will see tough competition from yacht Kadri with Tanel Õun at the helm from Saaremaa Marine Sports Society who will definitely try to defend their last year's title. Others to watch would be Jaan Tiidemann's team on Blanca from Kalev Yacht Club.
The favourites in ESTLYS1 grup are the last year's winner Mir from Russia with Aleksandr Kulikov at the helm and the runner-up Fanatic and Ain Jalasto from Kalev Yacht Club. Alar Ivanson on Tessa (Kalev YC) will give them a run, for sure.
In ESTLYS2 both Mikk Metstak on Brigitta from Kalev Yacht Club and Margus Beljakov on Liliann from Saaremaa Marine Sports Society will definitely try to race for the title.
ESTLYS3 favourites are the last year's winner Aurora from Haapsalu Yacht Club with Pille Kaas at the helm and runner-up Margus Tasa on Mercurius from Saaremaa Marine Sports Society.
As there is a record amount of yachts registered in LYS groups, we can expect many surprises and tough races.
This year there is a record number of Folkboots racing. 2015 Estonian champion Mikk Köösel on Greta from Kalev Yacht Club is a very serious competitor but we will see other last year's frontrunners too: Peeter Välkmann on Tee Chee and Hard Perk on Svea, both from Kalev Yacht Club will also race for the title.
There will be two all-women teams racing ion the regatta: Kaija from Noblessner club with Annika Malva at the helm and Équipe du Piloilleri 3 from ROPK with Anne-Mari Luik.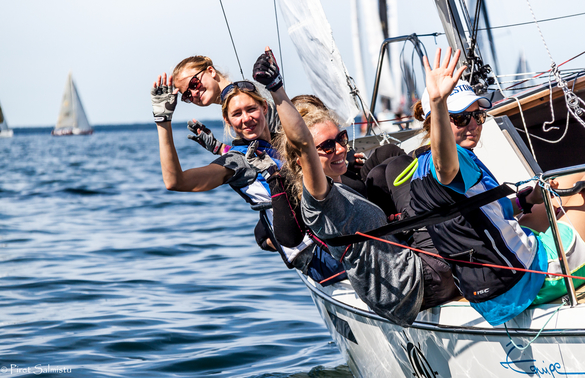 A. Le Coq 58th Moonsund regatta in Kärdla 2015 - photo Piret Salmistu
Races and all on-water activities and work are coordinated by PRO Andres Talts and his team who has done a marvellous job of it for three years already. Upcoming problems and protests will be solved by Alfredo Ricci from Italy, chairman of the protest committee. Yachts are measured and checked by Arvet Tetsmann's team and the race office is run by Krista Liiv. Entertainment and harbour activities are managed by Andreas Lukin; organising clubs are represented by Renè Allik, Raiko Lehtsalu and Rain Riim. Communication; media and information are managed by a dream team of Piret Salmistu and Agnes Lill and marketing manager is Anneli Lepp.
A. Le Coq Moonsund Regatta is organised by Kalev Yacht Club, Pärnu Yacht Club and Saaremaa Marine Sports Society in cooperation with the Estonian Yachting Union.
Sponsors of the Moonsund Regatta are: A. Le Coq, Postimees/Eesti Meedia, Helly Hansen/Sportland, DSV, Dermoshop, Loodus Invest, Musto, Bosch, Mount Gay, Euronics, Rahva Raamat, SailInvest, the Cities of Tallinn, Pärnu and Haapsalu, Hiiu Municipality, Port of Kärdla, SL Marinas, Veeteede Amet, Eesti Vabatahtlik Mere- ja Järvepääste, Alter Marine.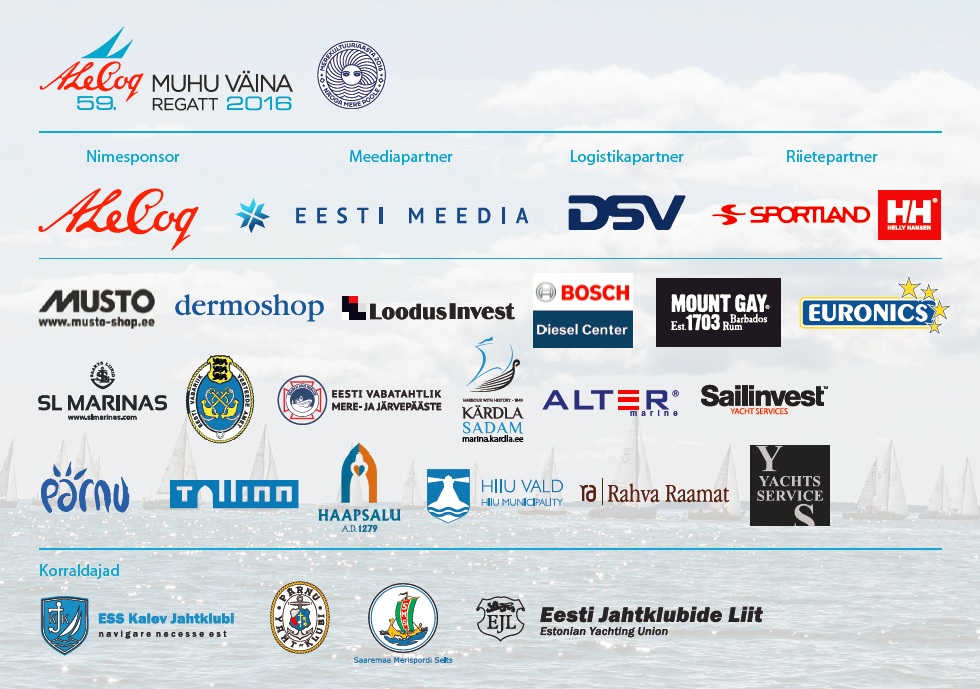 Homepage www.muhuvain.ee

The Regatta in Facebook
Live streaming – www.postimees.ee
GPS tracking - www.sportrec.eu/?page_id=671
News and pictures – Postimees online Sailing/Moonsund Regatta.
Gallery and videos of the 2015 regatta - muhuvain.ee/galerii
Additional information:
Indrek Ilves
General Manager of the Regatta
E-mail: indrek@kjk.ee
Mob: +372 505 2526
www.kjk.ee
Renè Allik
Kalev Yacht Club
E-mail: renè@kjk.ee
Mob: +372 523 3308
www.kjk.ee
Raiko Lehtsalu
Pärnu Yacht Club
E-mail: Raiko.Lehtsalu@Yacht Club.ee
Mob: +372 508 8493
www.Yacht Club.ee
Rain Riim
Saaremaa Marine Sports Society
E-mail: Rain.Riim@tridens.ee
Mob: +372 502 0942
Ott Kallas
Secretary General, Estonian Yachting Union
Mob: +372 564 3914
E-mail: ott@puri.ee
www.puri.ee
Piret Salmistu
Communication Manager, Moonsund Regatta
Kalev Yacht Club
E-mail: piret.salmistu@gmail.com
Mobile: +372 507 7217