What really happened to Kvartet RUS297 boat at the final leg of the A. Le Coq 59th Muhu Väina regatta? |
The footage below (click on the photo for video) from the Tallinn Bay which was recorded for the Postimees Live Stream and dates back to July 16 during the A. Le Coq 59th Muhu Väina regatta's final leg has been living its own life in the internet and social media for a week now. This video of the Аля Кубанеццц' mast-walk was recorded from the organizers' media boat Storm Hunter doing the Live Stream from the final inshore races of the regatta.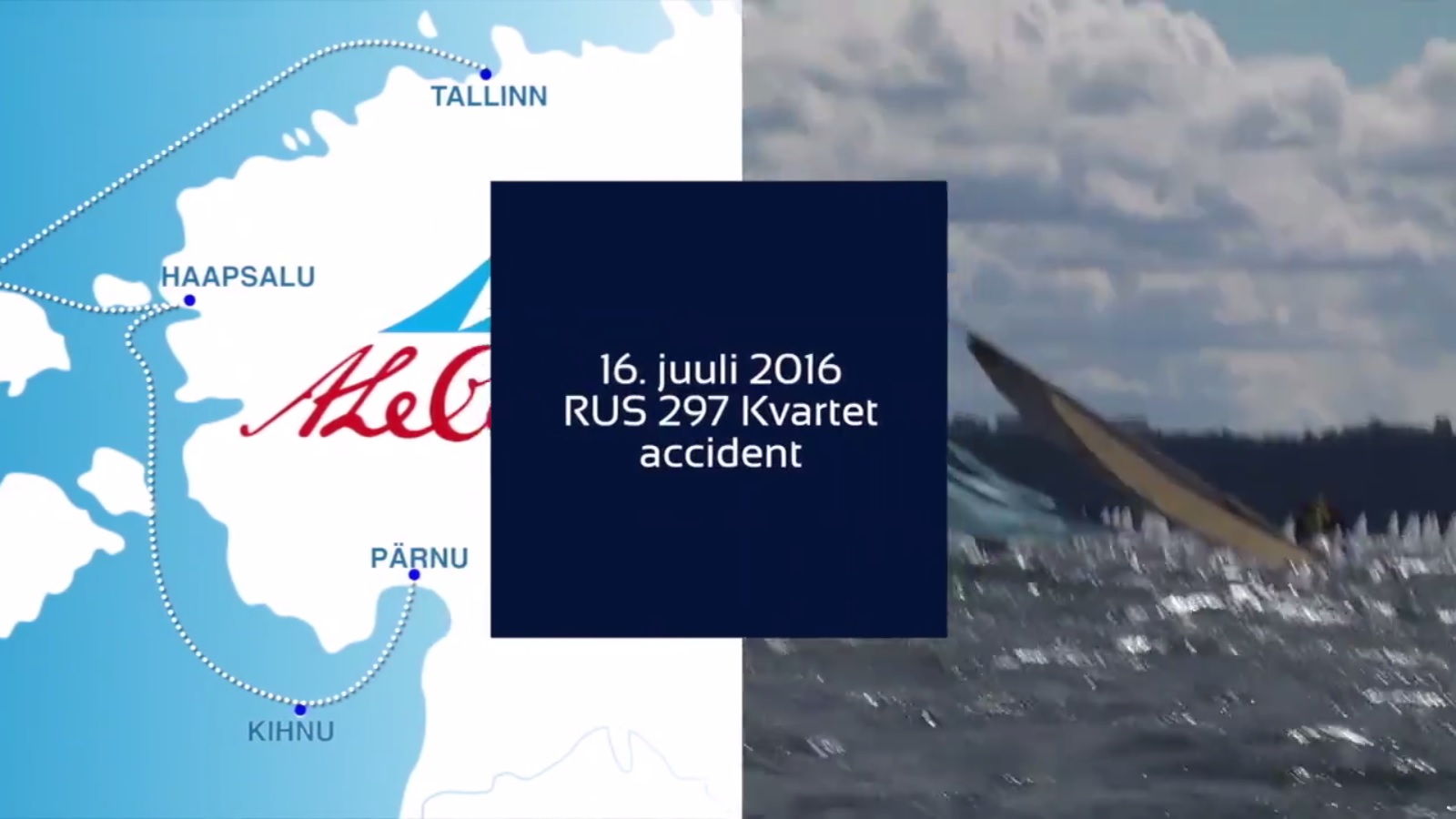 Seeing really brave bow girl Alia Kubanezz climbing the rig to release stacked spinnaker, but what really happened there and how this situation was solved?

Lots of questions have been asked but we asked the story behind from the helmsman Vasily Alexeev, who explained the situation: "At the last race on Saturday we broke a top of the mast with the crane. As a result, all halyards were locked at the top, and we could not put the spinnaker down. As the leeward seashore was quite close, we had no another way except to stop the yacht by luffing. After that the yacht heeled, and there was no problem to climb the mast and release the spinnaker from the halyard. Unfortunately Alia (our bow girl) fell into the water when she came back, and spinnaker was locked once more between shrouds at the 2nd spreaders, and I had to climb the mast again to free the spinnaker. And the 3rd time another guy had to go up the mast to unlock the main sail... But this was not recorded on video...
Now I think that there was mistake in the construction of the mast. There was 2 cutouts for sheeves of mainsail halyard and gennaker halyard, just opposite each other, and sideplates of the crane ended quite near these cutouts. So mast section there was very weak. In addition it was weakened by welding.
Now we want to insert sideplates more deep into mast tube, to make the transition from mast profile to crane more smooth."
So – it was not the easiest task to solve, but one of our favourite boats from Russia with a very long participation history, managed the situation without hitting the rocks near the shore. It would have been avoided anyhow as the ribs of the Estonian Maritime Rescue Organization were there to secure and help if needed.
Wishing all the best to brave girl Alia and the rest of the Kvartet team - and we definitely meet them at the 60th Muhu Väina / Moonsund regatta next year!